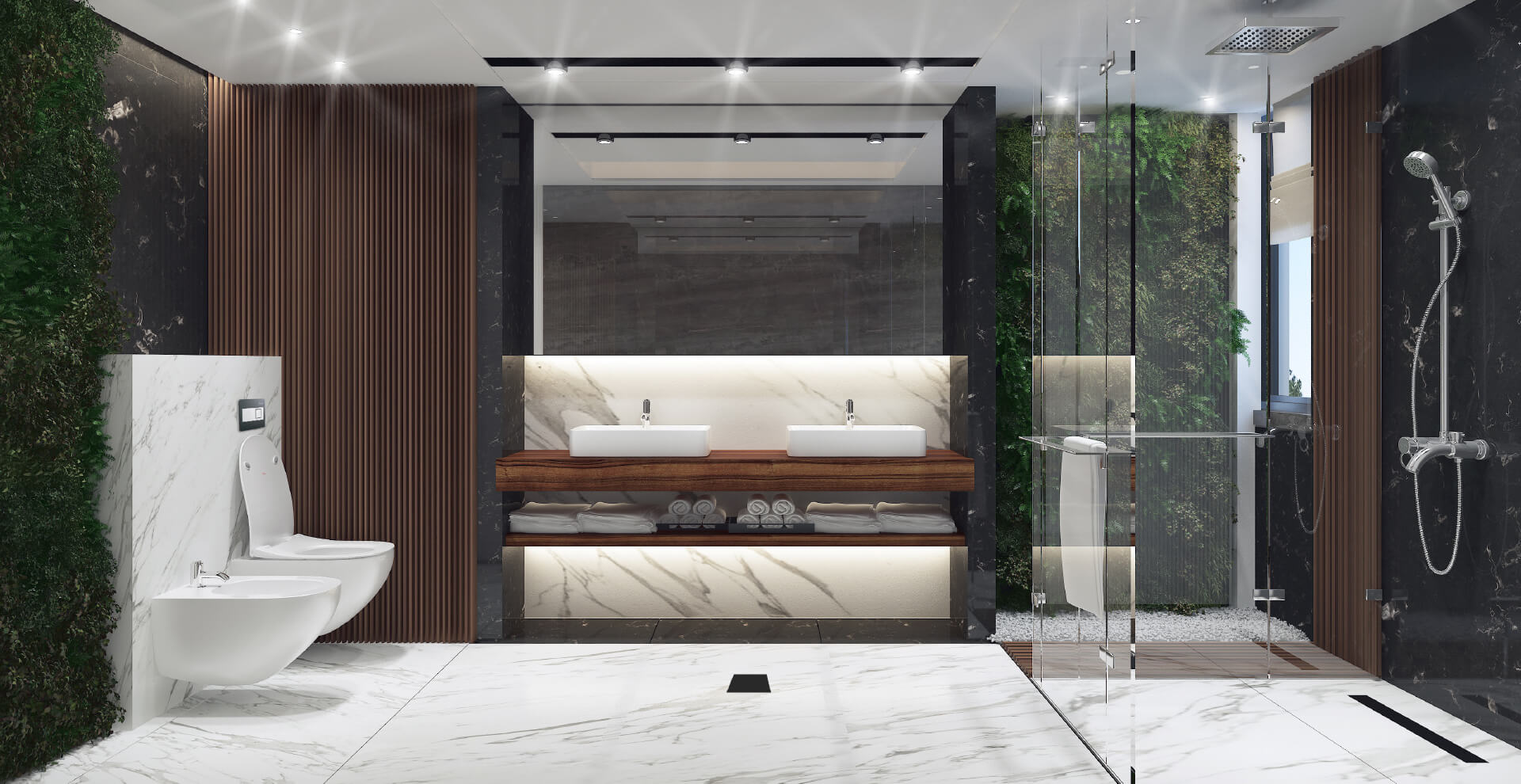 IT WORKS
JUST AS IT LOOKS
Peštan bathroom solutions
Concealed
Flushing Cistern
Rimless
toilet bowl
Fluenta
bidet
Round
washbasin
Standard
floor drain
Frameless Line
shower drain
Bidet
built-in
element
Do you want your bathroom to
work perfectly and look great?
Today bathroom represents a place for relaxing, enjoying after a busy and stressful day, as well as a place for calmness and pleasant intimacy. And not only for that. Modern bathrooms reflect style and elegance and represent the mirror of the house.
Unlike the former, traditional bathroom where simple functionality itself was enough to satisfy customers' needs, modern bathrooms have an important esthetic role. Considering the fact that bathrooms are not being equipped nor renovating very often, it is crucial to pay attention to the selection of solutions that is good enough to satisfy equally both technical and esthetical criteria, today and in the future.
This was our main idea when we created products for bathrooms. By focusing on details, we provided reliable solutions that last and represent the perfect harmony of technic and aesthetics.
Functionality in the first place
Fluenta Pre-Wall Installation Elements
Harmony of shapes
Fluenta sanitary ware
Shower cabin without barrier
Walk-in showers, in recent years, have become an absolute synonym for a modern and elegant bathroom. They represent a practical and perfect choice, for both bathrooms of smaller or larger dimensions.
These shower cabins are characterized by a flat, barrier-free floor that allows comfortable and safe shower space entry. Usually combined with a glass enclosure and adequate ceramic tiles, these cabins, with a minimalist design, definitely bring a breath of luxury into your space for enjoyment and everyday activities. Flat floor, ceramic tiles, and glass surfaces enable easy maintenance and cleaning, which gives this solution both functional and practical value in addition to the aesthetic experience.
Drainage of water in this type of shower cabins is solved by appropriate placement of tiles and the formation of a slope that prevents water retention on the floor. For this purpose, linear shower drains are most often used, and a wide range of Confluo drains, with perfect functionality and elegant design, will make you feel comfortable in a pleasant atmosphere.
Elegance that your bathroom deserves
Confluo shower and bathroom drains
Choose your own style
When we are doing decoration of the bathroom we should keep in mind that the bathroom is a space for relaxation, pleasant intimacy, enjoyment, and not a source of worries. Therefore, this environment that we visit daily should look in harmony with our nature, character, and lifestyle. An aesthetically attractive bathroom that combines materials and colors that we like can make a significant difference in the feeling that we experience during daily routines in this area.
Furthermore, you can see our proposal for combinations of bathroom elements that we put in 3 collections: White, Chrome, and Black. Within this collection, you can choose and combine flushing plate, central floor, and linear shower drain in the same color. We also advise you to match these colors with furniture and other bathroom elements that are not part of Peštan range.
Quality that speaks all languages
More than 80 countries around the world have shown their trust in the products that employees create with pride and great satisfaction every day in order to offer an efficient and reliable solution for the most demanding projects and wishes for 30 years.
In front of you is a small part of selected projects from Serbia and abroad in which products from the Bathroom Solutions of the Peštan company found their place.
La Flora, Khao Lak, Thailand
Delivered products: Confluo Frameless Line.
One Africa Place, Kenya
Delivered products: Confluo drains i HTPP pipes and fittings.
Hotel Ambasador, Niš, Serbia
Delivered products: Fluenta concealed flushing cistern, Rimless toilet bowl, Confluo drains.
Do you need technical sales support?
If you have any doubts about the purchase or need advice, our sales / technical advisors will be happy to answer your requests. Select the country in which you are located for the contact information of the appropriate Peštan representative.