The 2016 SymOrg at the Faculty of Organizational Sciences in Belgrade saw the Challenges of Sustainable Growth Business Forum take place on Saturday, June 11, 2016.
The organizer and one of the participants of the Forum was Prof. Ondrej Jasko, PhD, while other participants included representatives from the public and private sectors. Our company's was represented by our Sales Director, Mr. Ivan Terzić.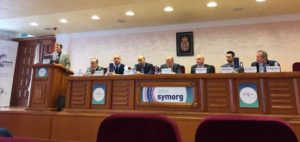 Terzić spoke about the challenges the company has been facing since its founding in 1989 and the first ten years of its operation, particularly during the bombing period in 1999, when all export was suspended, which lead to the company temporarily moving production to Bosnia and Herzegovina.
The company's next steps involved major investments, launches in the Serbian and regional markets, and after the financial crisis of 2008 a strategic decision was made to launch export to all countries in Europe and beyond.
In order to support sustainable growth in the future, production is planned for expansion also in other countries.