An upgrade and expansion of existing product assortment are logical steps on the way to meeting the needs and different requests of the market. In the past period, we have listened to the needs and requests of different markets, and additionally expanded existing assortments of the fittings in PP Strong as well as in the HTPP program.
New PP STRONG fittings
Peštan PP Strong pipes and fittings program is using for the removal of all kinds of wastewaters in low construction, and they are intended for areas with great static pressure, such as airports, highways, and railroads.
Expanding the existing assortment of PP Strong fittings implies a new line of fittings in the SN4 class, which is S16 of diameters from Ø110 to Ø200. The offer is completed according to specific requirements of some markets on which fittings are using in this class, as well as pipes of SN4 and SN8 class.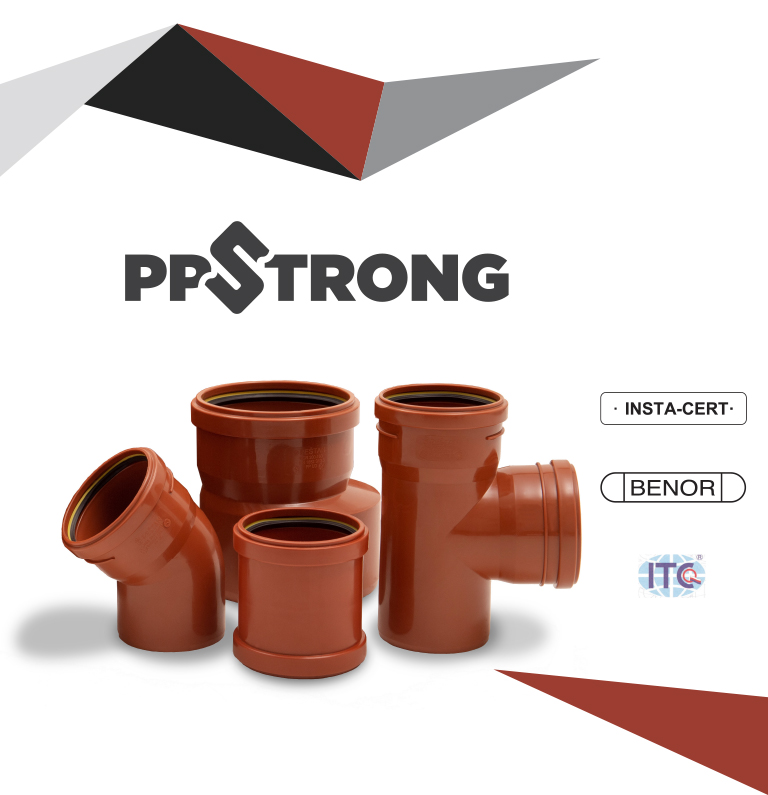 PP Strong assortment of pipes and fittings is produced according to the norm EN 1852, and recognized quality certificates Insta-Cert, Benor, and ITC speaks in favor of the product quality. All information and technical details you can see in our latest PP STRONG catalog.
HTPP assortment expansion
Peštan HTPP assortments of pipes and fittings for domestic sewage are designed to remove all kinds of wastewater within the facilities, includes pipes produced from high-quality polypropylene homopolymer (PP-H), the technology of three-layer composite pipes according to the requirements of EN 1451, in diameters from Ø32 to Ø250. It is also characterized by sound isolation with a noise level of 24 dB.
The newest expansion of HTPP assortment includes the offer of the following fittings:
Double socket 90
Branch 90/40/87,5 º
Elbow 90/15 º
Elbow 90/30 º
Elbow 90/67,5 º
Branch 90/50/45 º
Branch 90/50/87,5 º
All information as well as technical details about existing and expanded assortment you can find in our updated HTPP catalog.