Peštan is constantly working on educating and informing its employees, as well as its customers and distributors. That is why the previous period saw the company organizing presentations with diverse content.
Every week the company welcomed more than 100 customers and distributors from all over Serbia as its guests. After the presentation on the company itself at the five-star Izvor hotel and the cocktail party, the guests were given a chance to see what they heard at the presentation for themselves in a tour of the production facilities.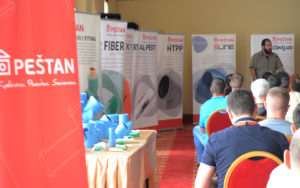 The Road Show demonstration provided them with more detailed information about the products themselves, as well their making and use.
After getting to know the company, the attendees gathered to have a good time with nice music and food. The guests were also able to enjoy themselves choosing from the Izvor hotel's Spa & Wellness program.